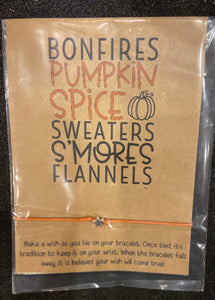 Wishlet
Bonfires Pumpkin Spice Wishlet
Regular price
$2.00
Sale price
$4.00
Our She Believed wish bracelets are the perfect small gift for college graduation, weddings, job promotions, and more! These special bracelets also make great favors for graduation parties and various other celebrations! Each card features the text "She Believed She Could So She Did" in a playful font. Our wish bracelets are a unique and affordable gift for friends and family!
Each wish bracelet comes in a high quality clear jewelry bag. These are the perfect size to be put into envelopes, given out as party favors, or perfect small gifts. The dimensions of each card are 3.5in (8.89cm) by 5.5in (13.97cm). The silver star charm is 5mm and the cord length is 10in (25.4cm) long, so they should fit around any wrist!
A wish bracelet is a simple item of jewelry, made with cotton strands and a tiny silver star charm. It allows you to make a wish when you tie it on and receive your wish when the bracelet falls off. A wish bracelet is usually tied in three knots. Each knot represents a wish. The bracelet must be left on until it falls off on its own. Every time you look at your bracelet, you will be reminded of the wish you made. While you are wearing the bracelet, you must remember to think positive thoughts and visualize the things you want in order to attract the desired results.
---
More from this collection