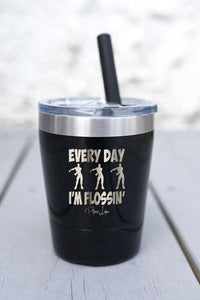 Piper Lou
EVERYDAY I'M FLOSSIN' KIDS LASER ETCHED TUMBLER
Regular price
$12.50
Sale price
$25.00
THIS 8.5OZ TUMBLER REDUCES CRANKY ATTITUDES BY 67%*
The ONLY cup in the world that claims to reduce temper tantrums by 67%.
Okay, it's a 'claim' not a promise, but here's why you should believe us…
You see, one of the chemicals in this magnificent Stainless Steel tumbler is "Bs7" which promotes a sense of calm and happiness in your little one…
This reaction instantly reduces those leg kicking, arms thrashing, crying temper tantrums by 67%
It's a cup for goodness sake! However…
… It does have a Lid!  Yep, a real vacuum sealed lid so your little one will spill less. AND a matching silicone straw!
If you think about it, this cup doesn't cost you money… it saves you money.
This cup will be the reason your kids see you as their hero. This cup will also be the reason your kids take care of you when you are old. Take our word for it…
… Here are the other amazing reasons why this cup belongs in your home:
So what are you waiting for?
Go slap that "Add To Cart Button" already!
---
More from this collection